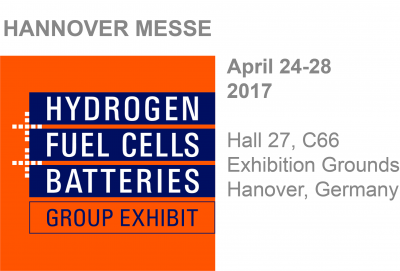 Group Exhibit Hydrogen + Fuel Cells + Batteries at HANNOVER MESSE
Organization: Tobias Renz FAIR
Location: Germany, Niedersachsen, Hannover
Date: April 24, 2017
Date End: April 28, 2017
Description:
The Group Exhibit Hydrogen + Fuel Cells + Batteries is Europe's largest and most important H2+FC+BAT exhibition dating back to 1995. This 5 000 m² large exhibition area is located in the
Energy trade fair of HANNOVER MESSE
and thus puts its participants at the center of the world's largest event for industrial technology.
Information:
150 exhibitors from 25 countries
International corporations, SMEs and research institutions showcase the full spectrum of hydrogen and fuel cell-related technology and batteries: stationary, mobile and portable fuel cells, components, fuel cell applications, test systems, hydrogen production, transport, storage and infrastructure, reformers and more.