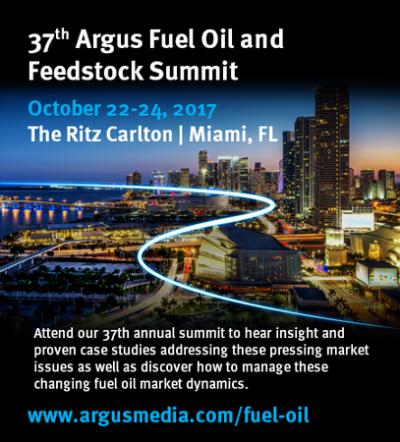 37th Argus Fuel Oil and Feedstock Summit
Organization: Argus Media, Inc.
Location: United States, Florida, Miami Beach
Date: Oct 22, 2017
Date End: Oct 24, 2017
Description:
Now in its 37th year, the Summit will bring together over 200 delegates from the fuel oil, marine fuels and feedstocks sector and provide a comprehensive overview of the global residue markets. Hear from experts, discover how to manage the changing fuel oil market dynamics and participate in networking programs you won't want to miss.
Information:
Prices:
Pre-registration (Now - July 28th): USD 795
Early Registration (July 29th - September 7th): USD 895
Standard Registration ( September 8th - October 21st): USD 995
Onsite Registration: USD 1095
Workshop registration: USD 195
Round of golf: USD 155
Venue details: The Ritz Carlton, 1 Lincoln Road, Miami Beach, 33139, United States
Time: 5:00 pm to 1:00 pm