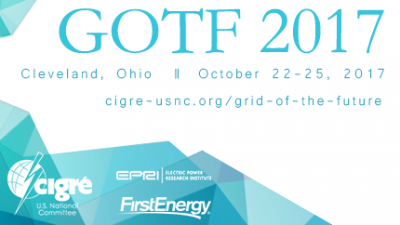 2017 Grid of the Future Symposium
Organization: CIGRE USNC
Location: United States, Ohio, Cleveland
Date: Oct 22, 2017
Date End: Oct 25, 2017
Description:
The Grid of the Future™ symposium is sponsored by the CIGRE US National Committee (USNC) and the Electric Power Research Institute (EPRI), and is hosted by FirstEnergy.
The GOTF™ symposium provides participants with the opportunity to network with their peers in the generation, transmission, distribution, markets, and smart grid technologies industries, and provides a variety of seminars and workshops in addition to educational speakers and tutorial sessions. Contributions from Next Generation Network (NGN) young engineers are encouraged.

Visit our website to find more information about offered tours and tutorials as well as keynote speakers and the symposium schedule.
Information:
Where: Hilton Cleveland Downtown | Cleveland, Ohio
When: October 22 - 25. 2017
Pricing:
Member Registration: (early) $650 | (regular) $700
Non-Member Registration: (early) $800 | (regular) $850
Student Registration: $275
One-Day Member Registration: $300
Non-Member One-Day Registration: $425

Additional information, registration, and travel arrangements can be found at: https://cigre-usnc.org/grid-of-the-future/